OSTEOPOROSIS ESSENTIALS COURSE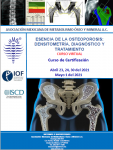 Organized by: ASOCIACION MEXICANA DE METABOLISMO OSEO Y MINERAL, A.C.
Clinician Track, Technologist Track
Durango 290 Office 504. (AMMOM office)
06700, Mexico, City, Mexico
from to
Day 1 : 16:30 to 20:00
Day 2 : 17:00 to 20:00
Day 3 : 17:00 to 20:00
Day 4 : 17:00 to 20:00
Day 5 : 09:00 to 11:00
USD 139.00 for member
USD 165.00 for non-member

Description:
The name of the course that the AMMOM wishes to teach is: "Essence of Osteoporosis: Densitometry, Diagnosis and Treatment", these are International Courses designed jointly by the International Osteoporosis Foundation (IOF) and the International Society for Clinical Densitometry (ISCD).
For more than 10 years, the Mexican Association of Bone and Mineral Metabolism (AMMOM) has carried out, with previous authorization from both international institutions, these courses in the Spanish language. The lectures given are those that the ISCD-IOF sends to be presented to the participants.
The Essence of Osteoporosis: Densitometry, Diagnosis and Treatment courses are divided into a Course for Clinicians and Course for Technicians, both covering the latest techniques and knowledge in densitometry, as well as the physiology, epidemiology, diagnosis and treatment of osteoporosis.
The ISCD and the IOF have developed an additional opportunity for those interested in demonstrating their competence in the field of bone densitometry. Participants who prove their attendance at the AMMOM virtual course are eligible to register to take an on-line exam of said Institutions, which certifies their competence in the specific content transmitted in the course (Attestation of Achievement).